Welcome
I am a young artist born and raised in North Western Ontario, Canada, where I gained a lot of the inspiration I hold today. Without any formal training, everything I know and practice is self taught and learned through challenging myself and my capabilities. I strongly believe that, within art, there is no limitations to a person's talents. Only with personal challenges, tedious practice, and the desire to expand one's own wealth of knowledge and ability can someone progress in the world of art. With every day passing, I strive to broaden my abilities and better myself for years to come. Practice never makes perfect, but it makes you better at what you do.
Offering quality animal & people portraits in graphite (pencil) drawings, my number one priority is to give individuals a way to capture and transform memorable moments into genuine works of art at an affordable price.

Updates
Last Updated : January 31, 2018
Over the course of 2016 and 2017, my family and I have been through a lot - Both a blessing and a curse! In July of 2016, I lost my career with CIBC when our local branch closed, but was fortunate to start in my new career with Service Ontario in September 2016. By November, my partner and I purchased our very first home and in turn, have taken on more renovations than we ever thought possible. To top it all off, we managed through everything in amidst planning our wedding and tying the knot on July 22, 2017; Officially making me Mrs. Pamela Naumann!
As you can see, I've been very busy so visual arts (my hobby) has taken a backseat for far too long! It's time to get back into the swing of things!
With my wedding day, my name has changed, and so has the name of my hobby site. Going forward, Genuine Art by Pamela Parker will be aptly renamed Genuine Art by Pamela Naumann. With a name change, I felt the entire site needed a makeover; New layout, new content, updated portfolio, new pricing, new products, and much more!
For those familiar with my previous website, you will notice I have restructured the links as well to allow me to expand on my content more effectively. The new links are
Home | About | Contact | Artist's Blog
Commission Pricing | Available Products | Portfolio | Artist Rights
F.A.Q. | Shipping | Help & Resources | Local Art
The previous pages "Portfolio", "Work in Progress", and "Before & After" have now been combined into one Portfolio Page with subsections for smoother navigation. As well, I have included a new Artist's Blog where you can find all updates going forward; a Help & Resources page where you can find links to art related articles, guides, and self-written "How To" topics; and a Local Art page where you can find information on other local artists in the Northwestern region.
All in all, this is a pretty major update! Seeing as I am using a whole new structure to my website layout, please bare with me as I work the kinks out of the coding... It has been 10 years since I coded a site, so I am a bit rusty at it! That being noted, I am relearning a lot so will aim to have a mobile-friendly version of this layout sometime into the 2018 year.
As always, thank you for visiting Genuine Art by Pamela Naumann
Thank you for visiting Genuine-Art.ca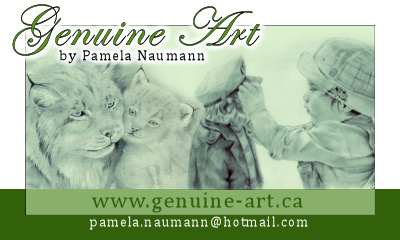 And yes, a new name means new business cards and email!